Organizing a Messy Catch-all Room
This shop has been compensated by Collective Bias, Inc. and its advertiser. All opinions are mine alone. #BigLotsHome #CollectiveBias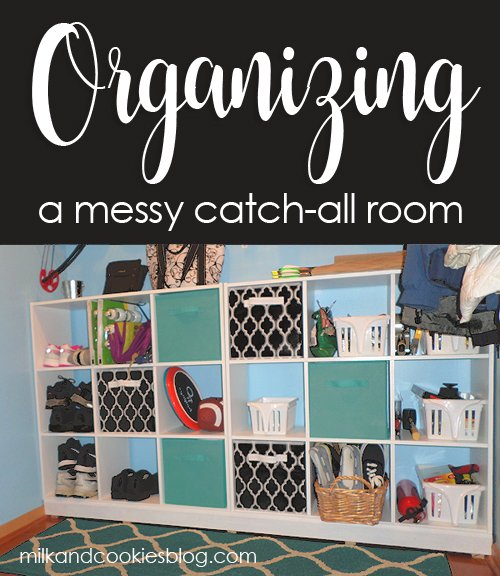 When we built our house, we had the option of placing the washer and dryer in a small room between the kitchen and garage, or placing them in the basement. We opted for the basement. This left us with a small 6-foot squared room to walk through every day coming and going from the garage. We started calling this the Shoe Room, because it is naturally where we left our shoes and coats. Within a few years, it became the Messy Room.
We placed a large unpainted wood shelf in there, but it just ended up cluttered beyond all belief. Shoes, coats, purses, bags, bows and arrows, shooting targets, sporting equipment, light bulbs, pop, bottled water, tools, craft supplies, paint…it all ended up in there. If we weren't 100% sure we wanted to throw something away yet, it ended up in there.
We are not messy people, but that room was one exception in our lives. So when company came over, that door remained closed and off-limits. I even made these signs…
…to place on the pantry door (photo above) and bathroom door (that one says The Loo) so that no one would go looking for either and accidentally end up in the shockingly messy room. Now, thanks to Big Lots, the room is clean, organized, and simply adorable.
It is still our catch-all room, but now everything has its place, and with the cute fabric bins, certain things can be hidden out of sight.
Now, when company comes over, I plan to leave this door wide open.
The cube organizers are made by Ameriwood System and can be purchased as a 9-cube shelf or 6-cube shelf. The fabric bins are also made by Ameriwood and can be purchased in a dozen different colors and patterns. I opted for a black and white pattern because I thought it really stood out and a blue-green solid color because it paired well with a set of rugs made by Living Colors. All of the rugs were so pretty that it took me forever to decide.
All of these products can be purchased at Big Lots. It was such a relief to be able to find everything I needed in one store! From small scale items like the fabric bins, to large scale items, like the shelves, Big Lots carries an incredible assortment of high quality home decor and organization items that are practical and fashionable.
You will be able to find the cube organizers and fabric bins in a stand-alone case near the furniture and home goods.
I had to take some muscle with me to Big Lots because the boxes were pretty heavy and there was no way I could have carried them on my own. One of the very nice employees even offered to help my son. I love our local Big Lots. I go there frequently when my son is in Taekwondo class. The employees are always so polite and friendly and I never know what gem I might find while I am passing the time.
I did manage to build them on my own! That is one of the things I love most about these cubbies is that they are super easy to put together.
My very own bright pink tool kit
Cleaning out this room was a daunting task, but it was well worth it. First and foremost, I made sure that I was in the mindset to do it all in one period of time without stopping. Because clearing that room out meant that my kitchen would be a cluttered mess, I wanted to get it done quickly. I also wanted to surprise my husband when he got home and emerged from the garage into a completely new room.
I didn't worry much about organizing or throwing anything away at first, I just moved absolutely everything out and roughly placed things in various places around my kitchen according to their theme. Tools in one place, shoes in another, craft supplies over here, sporting goods over there.
I mopped the floor and then the muscle (my 14-year-old son) moved the old wooden shelf out and moved the two new Ameriwood cube organizers in.
The hardest part was deciding what should stay in the room and what should go. While cleaning up, I even found a jar of over $20 in coins. It was buried in the mess. I placed this prominently on top so it is never forgotten. I am committed to keeping the top cleared off for purses and frequently used bags.
Most of the tools went back out to their rightful place in the garage. So did the paint. Craft supplies were hidden in several of the pretty fabric bins. Another bin holds gloves, hats, and scarves. The bins are so roomy that I was even able to fit 6 pairs of my shoes into one!
I hope you've enjoyed seeing my new catch-all room!
What room in YOUR house does everything just end up in?
*Disclosure: this post may contain affiliate links.